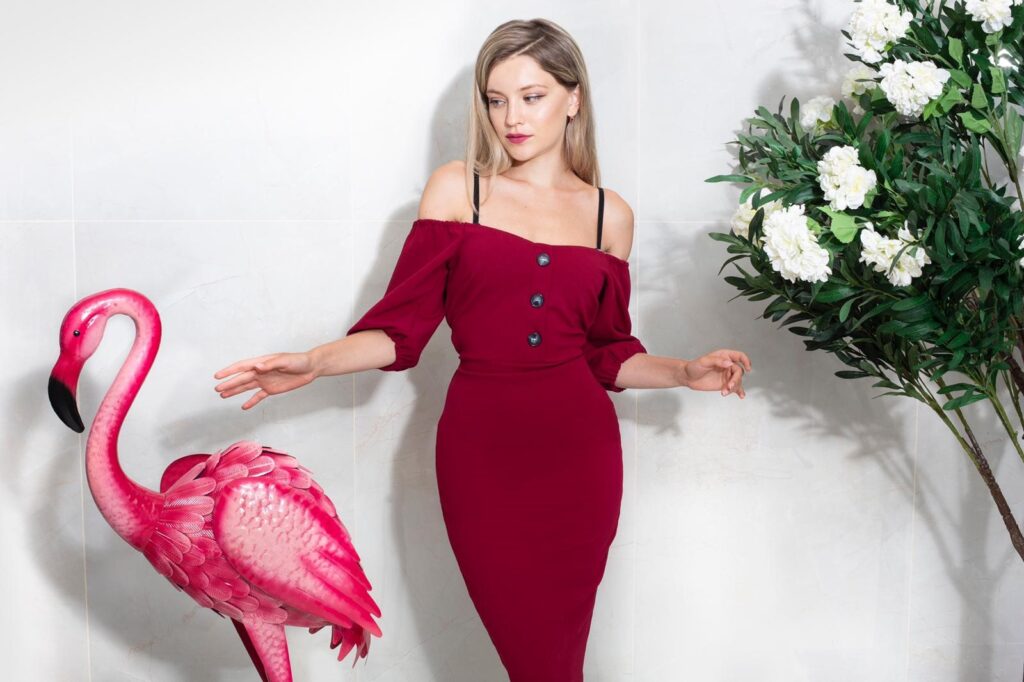 You may recognize me as the London office's lone stationary member, or as the charming little flamingo who greets guests as they enter to meet our team, or as Florence, or simply as Flo the Pink Flamingo. But I have one more arrow in my quiver, one that I've been working on with my human pals for a long time. Flo the Virtual Assistant takes the stage on the left.
You'd be shocked at how difficult it is to memorize pages and pages of product information, photographs, tracking information, and how to respond to all of your little enquiries. Especially for a flamingo that isn't moving. But, thanks to my pals at Artisan Furniture's urging (and the gift of many fish snacks), I've accepted this position to assist all of you on the website and make your experience just a little bit smoother. Furthermore, it alleviates the boredom of sitting in the office all day with no other pink birds to keep you company.
Because I don't observe any human holidays, you'll be relieved to learn that I'm available 365 days a year, 24 hours a day. Surprisingly, metal flamingos do not require sleep.
Flo is at your disposal!
A guide for me (
Flo

)!

You've all kept me really busy over the last few weeks, which is great because what else is a static flamingo supposed to do with her time? Wildlife documentaries and reading romcoms can only take you so far, and I enjoy the intellectual stimulation (and the attention), so keep it up!

With my evaluation and bonus approaching, I believe now is the appropriate moment to provide some guidance on how I might be most effective. Without contacting my human colleagues in London, Jaipur and New Jersey, the functions and information listed below can be obtained —
Appointments – If you'd like to speak with someone for a longer period of time or on a specific issue over the phone, you can make an appointment on the Appointments page.
Bespoke — If you need to make changes to an existing product or create a completely new one for your needs, I can assist you by explaining how our bespoke function works and directing you in the appropriate path.
Dropship – This section is a great place to learn about drop shipping and how it might benefit your company.
Bargains – I've gathered all of our best deals in one place. These are replenished on a regular basis and are available while supplies last. Here's a deal for the bargain hunters!
e-guide – Did you know that one of my human colleagues has developed a comprehensive guide on dropshipping, including 10 short anecdotes about how dropshipping has benefited people and businesses across the world? You have it now! It is all available for just £2.99.
Flo – This page was made by my wonderful co-workers to showcase my skills and faults, and… well, what else can I say? I'd think it's quite true, as is the photograph of me in the London office. Check out this part to find out what I'm good at and where I'm still learning, as well as explore my knowledge.
Inspire me – I've hand-picked some of my favorite lifestyle photographs of Artisan-inspired houses, including some of my lovely human friends. Take a look to get some ideas on what you should choose, market, and sell. Please don't use these photographs on your website or social media because they are copyrighted and I may get pretty protective about them.
Invoice – If you input your Order ID, I can generate an invoice and give you a copy to your registered email address. If you can, avoid printing it; while I work in an office, my wild brethren may not be so fortunate. They require a somewhere to return to.
New Signups – If you're a new trade customer, I can assist you in joining up by leading you through the process and addressing any questions you may have.
Orders – After you've placed an order, this section will let you know how it's progressing, including how to track it. Simply submit your order number, and I'll handle the rest.
Products – If you have a specific query about a product, such as its description, dimensions, internal measurements, or restocking date, you may key in the product code and get an instant answer without having to wait for one of my human colleagues to look it up! There are numerous advantages to spending time in cyberspace.
Reports – If you'd like a summary of your many orders, I can compile a report of all your orders for up to six months. Perfect for analyzing how your business is doing and avoiding the time-consuming task of reviewing individual orders. That's how thoughtful I am.
Container load — For all of you container load buyers, this is the part for you. You can ask me questions concerning container loads, costs, and the program in general.
*Soon to be available at a Flo near you.